To take PC gaming seriously, you'll need an excellent gaming mouse. However, if you have large hands, finding a comfortable gaming mouse for extended raids or complex tasks with companions may be challenging. Fortunately, many high-quality alternatives are available, ranging in size and functionality. The most excellent gaming mice for large hands may be found in the following selections.
Choosing a mouse from the many possibilities available may be a difficult task. In addition to the mouse's aesthetic and feel, there is a slew of other considerations, such as the number of buttons, their placement, the sensor's sensitivity, and whether the mouse should be wireless or tethered. They may appear minor, yet they significantly influence your gaming experience. There are occasions when the mouse's touted qualities are exaggerated and don't indeed perform as described. Regardless of whether you like a gaming mouse, you'll want to choose one that fits your needs and budget. In other words, let's go straight into gaming mice.
At a Glance:
The Best Laptop for College That You Can Buy Today
---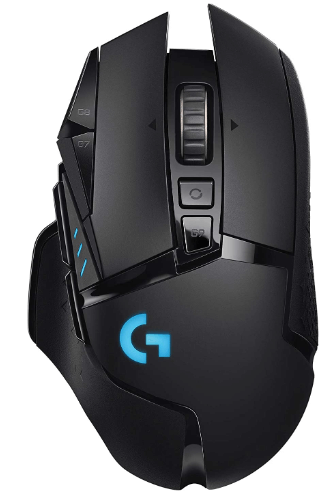 Logitech G502 LIGHTSPEED
Best LightSpeed Gaming Mouse
SPECIFICATIONS
DPI: 16000 | Sensors: Hero 16K | No. of Buttons: 11 | Ergonomics: Right-handed | Weight: 14 ounces | Dimensions: 2.00 x 4.00 x 8.00 inches |
Pros
✓Great built quality with a premium feel
✓Excellent sensor performance
✓Fully compatible with both OS
The Logitech G502 is available in both wired and wireless versions, but we're focusing on the fantastic wireless mouse in this review. The lack of a cable makes it an excellent gaming mouse and ultra-portable. Its wide buttons and ergonomic design suit gamers with large hands. Due to the G502's remarkable size and customizable weights, it is the most excellent gaming mouse for large hands.
Performance
Optical LED sensors on the Logitech G502 mouse track and correctly transmit movement. It has a 12ms click latency and does not lag even if it is wireless. There is a minimum of 100 DPI and a maximum of 16000 DPI in resolution. There are 50 adjustment stages, making it the most incredible range you'll find, and the sensitivity can be adjusted. In addition, the polling rate may be set to one of four values: 125, 250, 500, or 1000 Hz.
Only the mechanical scroll wheel has a fixed purpose out of 12 reprogrammable buttons. In addition to endless vertical scrolling and tilt inputs, the scroll wheel may be configured to do various tasks. Because the Logitech G Hub software is compatible with both Windows and Mac OS, all the buttons on the device are fully functional. Several capabilities in this program enable you to personalize the whole mouse to your liking. Finally, the option is saved in onboard memory, allowing you to utilize it on other PCs.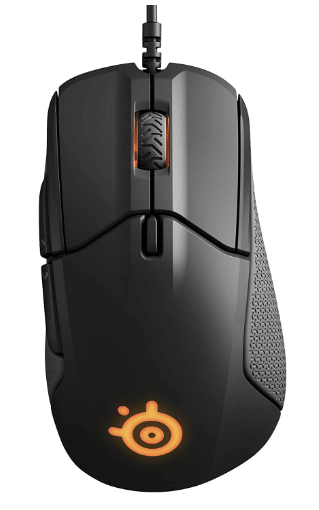 SteelSeries Rival 310
Best Premium Gaming Mouse
SPECIFICATIONS
DPI: 12000 | Sensors: Optical | No. of Buttons: 6 | Ergonomics: Right-Handed | Weight: 3.52 ounces | Dimensions: 5.03 x 2.76 x 1.65 inches |
Pros
✓Attractive and ergonomic design
✓Comfortable grip
✓Excellent performance
Cons
✗No extra weights
✗Standard buttons
The SteelSeries Rival 310 is a gaming mouse with everything a decent one should. The sensor, ergonomics, and software are all top-notch. This is a good option for gamers with huge hands because of its hefty and massive design with large buttons.
It's not only a beautiful mouse, but it also functions flawlessly. Using a TrueMove 3 optical sensor, the Rival 310 may be used to play games like World of Warcraft. You won't notice any lag in performance because of the high-quality sensor and connected connection. The DPI range is also up to 12000, and you may configure settings for quick access to them.
The mouse's buttons and illumination may be customized using the mouse's software. You may instantly adjust the DPI and polling rate settings you've already established during gaming.

Razer DeathAdder Elite
Best RGB Lightweight Gaming Mouse
SPECIFICATIONS
DPI: 16000 | Sensors: Optical | No. of Buttons: 7 | Ergonomics: Right-Handed | Weight: 4.6 ounces | Dimensions: 2.90 x 1.69 x 5.00 inches |
Pros
✓Excellent performance
✓All hand grips
✓Great-built
The mouse's DPI range is outstanding, allowing it to function highly. It has a DPI resolution of up to 16000 and two buttons for increasing and decreasing it. The 100Hz polling rate ensures smooth mouse movement and improved performance.
The optical sensor is a bespoke design, and it works well. Acceleration up to 50G and 450 IPs can be maintained using the 5G sensor. In gaming, it can keep up with quick hand motions, and communication between the mouse and PC is instantaneous.
However, the DeathAdder Elite lacks onboard memory, and the Razer Synapse 3 software has limited functionality. Using the program, you can only store your mouse settings and adjust the RGB lighting of your mouse in computer memory. You won't be able to store your settings, so you'll have to start from scratch if you connect to a new computer.
It is also not compatible with Mac OS, yet the mouse works well with its default settings. However, on the plus side, both the mouse and the program operate wonderfully in Windows.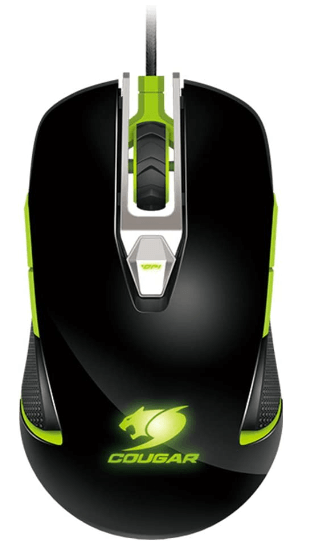 COUGAR 450M
Best Fastest Gaming Mouse
SPECIFICATIONS
DPI: 5000 | Sensors: Optical | No. of Buttons: 8 | Ergonomics: Ambidextrous | Weight: 3.35 ounces | Dimensions: 2.64 x 5.31 x 1.57 inches |
Pros
✓Unique scroll wheel configuration
✓The comfortable grip on both sides
✓Ambidextrous design
Cons
✗Dull exterior
✗Thin buttons
The Cougar 450M is a shooter-style mouse with a comfortable, but not opulent, look overall. You receive essential functions because of the inexpensive cost, yet they're enough. Big hands will love the size of this item since it's just right for them.
Performance
There are at least 27 functions that can be saved in the 512KB onboard memory of the 450m, and you can access them all with a single button press. As for the DPI, the level can go up to 5000, allowing you to play with fantastic accuracy. In addition, it has a polling rate of up to 1000 hertz. While these specifications aren't as impressive as those of the previous mouse, they're acceptable when considering the low price.
Because its simplistic design sacrifices performance to make it more comfortable for the user's hand. Last but not least, it works on both Windows and Mac OS X systems.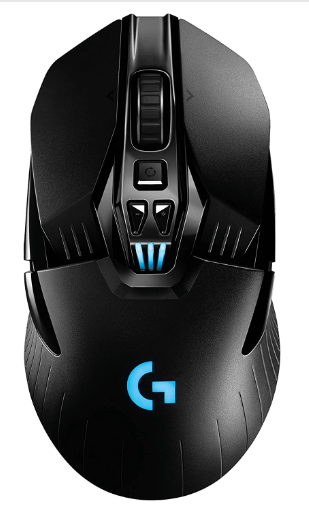 Logitech G903 Lightspeed
Best Ultra Lightweight Gaming Mouse
SPECIFICATIONS
DPI: 16000 | Sensors: Hero 16K | No. of Buttons: 11 | Ergonomics: Ambidextrous | Weight: 3.88 ounces | Dimensions: 1.59 x 2.62 x 5.13 inches |
Pros
✓Great gaming mouse for big hands
✓Great build and performance, Versatile
Cons
✗Lacks USB storage compartment
The gaming mouse made by Logitech is often regarded as the finest on the market. We've included at least three models from the same brand in our analysis of the best gaming mouse for large hands. Logitech's G903 is a good option for those with big hands. It has a great balance of performance and outstanding ergonomics.
Performance
Its Hero 16K sensor, which is in the center of the device, performs well when used in games. With a connected connection, you receive 8ms of click latency. When using a wireless connection, it rises to 11ms. It has a DPI button that allows you to pick from five different DPI settings, ranging from 500 to 12000.
It features 13 buttons, 11 of which are programmable and some of which may be removed. The profile switch and wheel lock are two examples of buttons with fixed purposes. The scroll wheel's unlimited scrolling and incrementing capabilities are activated by just pushing a button. It's also possible to label a section so that you can scroll horizontally.
Both the mouse and the software may be used on either Windows or Mac computers. Except for a few, every button on the Logitech G HUB may be assigned and customized using the software. Finally, onboard memory makes it possible to save settings without entering them manually each time.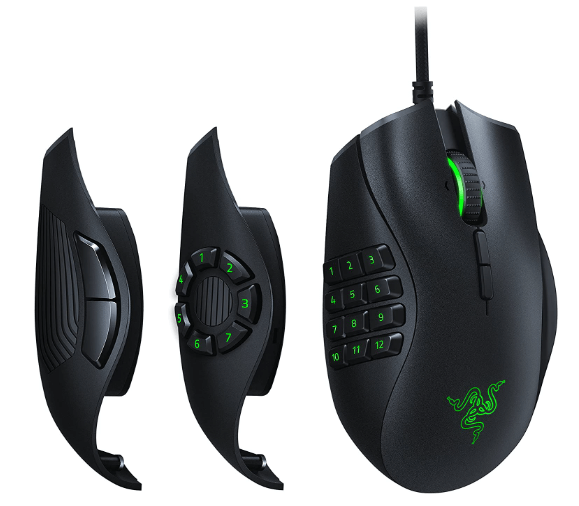 Razer Naga Trinity
Best Super Ultra Lightweight Gaming Mouse
SPECIFICATIONS
DPI: 16000 | Sensors: Optical | No. of Buttons: 19 | Ergonomics: Right-Handed | Weight: 4.1 ounces | Dimensions: 4.69 x 2.93 x 1.69 inches |
Pros
✓Customizable rubber grip
✓Buttons are clicky
Cons
✗Not comfortable for all significant hand gamers
The Razer Naga Trinity is the bulkiest and most versatile gaming mouse featuring a side panel design. Unlike the other mouse mentioned, this one has a separate button series on the side alone. You can customize every button and function through its software. It does not assure portability due to its thick heavy design.
Performance
It uses an optical sensor, the best in the market. As for DPI, it offers a 100-16000 range with 50 adjustment steps. The high polling rate makes the cursor movement fluid and accurate. It is fully compatible with Windows but partially on Mac OS. The software works fully on Windows operating systems and lets you customize everything. However, on Mac OS, the setting is set to default with no change whatsoever. Also, it has onboard memory for saving the settings and preventing it from setting it every time.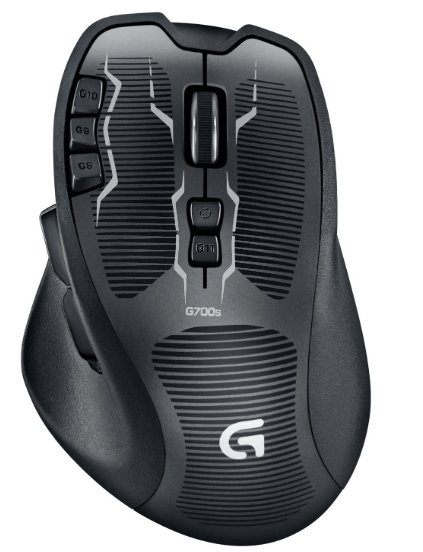 Logitech G700s
Best Ultra Laser Lightweight Gaming Mouse
SPECIFICATIONS
DPI: 8200 | Sensors: Laser | No. of Buttons: 13 | Ergonomics: Right-Handed | weight: 16 ounces | Dimensions: 5.51 x 3.66 x 8.31 inches |
Pros
✓13 buttons
✓Sleek and comfortable
✓It can be used as wired and wireless
Performance
It has a decent DPI as well. DPI ranges from 200 to 8200 are available. It enables both slow targeting and quick action. It also has a built-in memory that can save up to five different settings profiles so that you don't have to do the same thing repeatedly.
You'll need to recharge this wireless gaming mouse periodically to keep it running. Since it is often charged while in use, you won't be able to quit your gaming session. Logitech gaming devices are known for their user-friendly interfaces.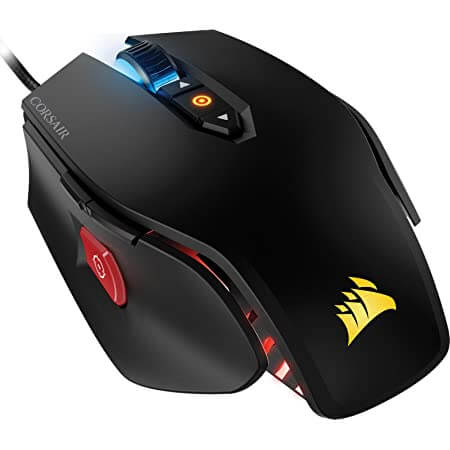 Corsair M65 Elite
Best Optical Lightweight Gaming Mouse
SPECIFICATIONS
DPI: 18000 | Sensors: Optical | No. of Buttons: 8 | Ergonomics: Ambidextrous | Weight: 3.36 ounces | Dimensions: 4.57 x 3.01 x 1.54 inches |
Pros
✓Lots of programmable buttons
✓Perfect performance
✓Universal design
Cons
✗Not easily portable
✗Stiff cable
The Corsair M65 is a great all-around performer and builder. It has an aluminum body, a DPI range that can be customized, a sniper button, and an ergonomic design that can be used by just about anybody. This is a mid-range mouse for gamers with big hands in terms of price and size. Because of the configurable buttons, some people use them for office work and gaming.
Performance
An optical LED sensor works correctly; however, it only functions partly because of the reflective surface of the glass. While gaming, you won't notice the 13ms click latency of this mouse. Overall, it performs well. The Corsair M65 Elite features a polling rate of 1000Hz and a DPI range of 100 to 18000. One DPI level may be selected via a button.
It is compatible with both Windows and Mac OS in terms of its features and applications. There are several customizing possibilities in the Corsair iCUE program. This has all the functions and lighting options you could want.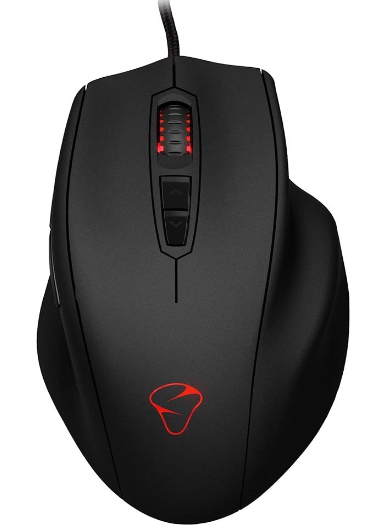 MIONIX NAOS 3200
Best Super Optical Lightweight Gaming Mouse
SPECIFICATIONS
DPI: 3200 | Sensors: Optical | No. of Buttons: 7 | Ergonomics: Right-Handed | Weight: 5.2 ounces | Dimensions: 5.10 x 3.30 x 3.87 inches |
Pros
✓Decent DPI
✓Comfortable grip
✓Great performance
Performance
The numerical buttons of the MIONIX NAOS 3200 are missing. It has a maximum resolution of 3200 dpi, which isn't bad. Programmable buttons and macros are included in this device. Compared to the 5000 version, this mouse lacks SQAT and, more crucially, the increased weight, making it considerably lighter and flimsier to touch. The 3200 keeps the essential characteristics of the famous 5000 model, proving that it is still a great mouse. If you don't mind having a heavy mouse, you should check out this ergonomic beauty.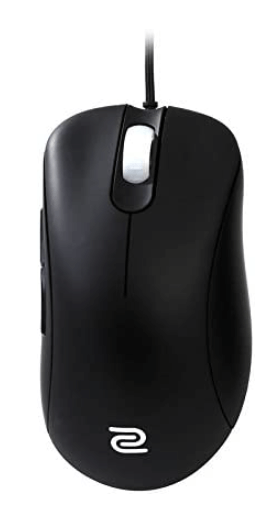 ZOWIE GEAR EC1
Best Super Lightweight Gaming Mouse
SPECIFICATIONS
DPI: 3200 | Sensors: Avago 3310 | No. of Buttons: 5 | Ergonomics: Right-Handed | Weight: 3.2 ounces | Dimensions: 3.94 x 3.94 x 3.94 inches |
Pros
✓Simple and lightweight
✓Decent performance
✓Ergonomic and sturdy design
A well-known name in esports, Zowie consistently produces top-notch gear. An RGB zone logo and many buttons aren't included in their mouse's design, which they describe as "clean and classy." Our evaluation of the EC1-A, the largest and broadest mouse in the EC series, focused on the EC1-A. As a result of its excellent dimensions, it's ideal for those with large hands.
Performance,
It does an excellent job in all areas. Due to wire activities, there is no lag or delay in the sensor's operation. It has minimal lift-off height and no acceleration or jitter. For the time being, the maximum DPI is 3200, which you may obtain in four levels, 400/800/1600/3200.
It's compatible with both Windows and Mac OS X. There is no need to install any additional software since it comes preconfigured. Simply plug it into your laptop or PC to begin using it immediately.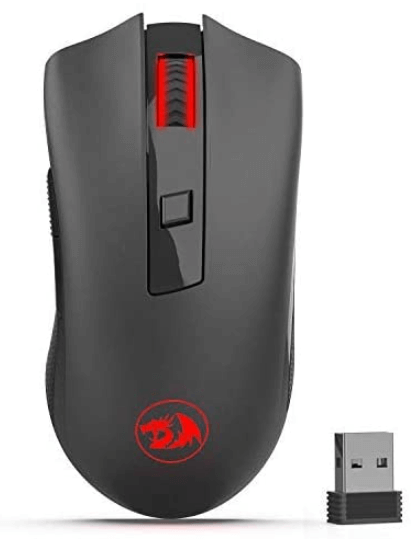 Redragon M652 Optical 2.4G
Best Wireless Lightweight Gaming Mouse
SPECIFICATIONS
DPI: 5 Adjustable DPI (800,1200,1600,2000,2400) | Sensors: Optical sensor | No. of Buttons: 6 Buttons | Ergonomics: 6 Buttons | Weight: 0.4 pounds | Dimensions: 1.6 x 2.6 x 5 inches |
Pros
✓Give precise and accurate mouse movement
✓Buttons are clicky
✓Smooth scroll wheel
Cons
✗Collect dust more quickly
The Redragon M652 is the most acceptable and most affordable wireless gaming mouse option for gamers with large hands. Excellent battery life that may last up to 15 months without interruptions and an easy-to-replace battery.
Redragon M652 is an outstanding gaming mouse with an adjustable DPI rate, which provides 800, 1200, 1600, 2000, and 2400 DPI settings that can be changed and disliked on your choice. In addition, it includes two polling rates that may be readily altered between 125 Hz and 250 Hz. A USB nano receiver built into the mouse's back for simple storage and play/plug capabilities makes it a great gaming mouse if you have a large hand.
With the Redragon M652, you'll get a dependable wireless connection, accurate tracking, and smooth mouse movement that won't be interrupted by latency. This mouse is perfect for gaming because of its enhanced durability and long-lasting performance, which has a 5000000-time keystroke and sleep mode. This software supports Windows 7, 8, 10, XP, Vista, Linus, and Mac.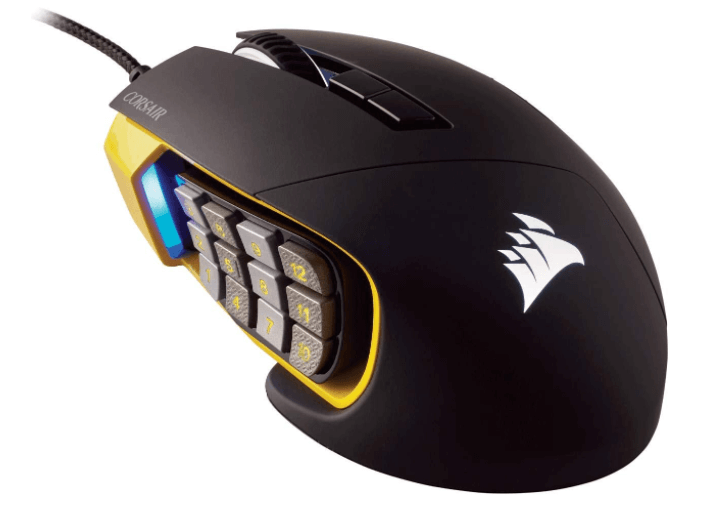 Corsair Scimitar Pro RGB
Best Ultra Optical sensor Lightweight Gaming Mouse
SPECIFICATIONS
DPI: 16,000 DPI | Sensors: Optical sensor | No. of Buttons: 12 Programmable Side Buttons | Ergonomics: Right-handed Ergonomics | Weight: 0.2 pounds | Dimensions: 4.75 x 3.04 x 1.67 inches |
Pros
✓Ergonomic design
✓Accurate tracking and feedback
✓Customizable keys
Performance:
The optical sensor and 16000 DPI of the Corsair Scimitar Pro RGB provide a high level of accuracy for tracking and mouse movement. Functional macro buttons provide particular purposes and realistic, tactile input and these other features. The side button features large enough keycaps to fit a large hand comfortably.
Critical travel distances of 8mm ensure that every control is safe and the playing surface is optimized for high-level games. Windows 10, Windows 8, and Windows 7 are all supported by this large-hand gaming mouse. For gamers with large hands, this mouse is the most excellent option.

SteelSeries Rival 650 Quantum
Best Dual Optical Sensor Lightweight Gaming Mouse
SPECIFICATIONS
DPI: 16000 DPI | Sensors: Dual Optical Sensor | No. of Buttons: Seven Buttons | Ergonomics: Right-handed Ergonomic | Weight: 0.36 Pounds | Dimensions: 2.69×5.16×1.7 inches |
Pros
✓Charge in 15 minutes
✓Comfortable and attractive design
✓Mechanical switch
Performance:
Its 16000 DPI dual-sensor design, which incorporates SteelSeries Rival 650 Quantum Wireless Gaming Mouse's TrueMove 3 optical gaming sensor and a depth-sensing linear optical centre, ensures a fluid and authentic gaming experience. Another feature is its 350-IPS display, which has a 50G acceleration and fast-charging capability.
While the mouse works effectively and provides valuable feedback, it also incorporates Quantum wireless technology. A full day of use includes a 24-hour battery that can be recharged in 15 minutes. But it boasts very long-lasting and dependable switches that are visible from a reasonable distance and provide accurate control movement.
Conclusion
We've come to the end of our evaluation of the best big-hand gaming mouse. Significant hand gamers should not be excluded from the most incredible gaming experience. Because of this, mouse manufacturers have come out with larger models. We've done the legwork for you by compiling a list of the most OK mice. Additionally, here is a gaming mouse purchasing guide so that you can quickly choose any mouse while analyzing these aspects first.
The Best Gaming Mouse for Big Hands Buying Guide
In-depth information about gaming mice for big hands may be found. Some people have more extensive hands with smaller fingers, while others have the opposite problem. The hand is deemed significant in both circumstances. Big hands need the purchase of a mouse of the appropriate size. A specialized mouse with the proper size is a lot better option than a generic mouse that fits both hands in one manner or another. Before purchasing a mouse, bear these things in mind.
SIZE OF THE MOUSE
Only one size of the mouse is available, and manufacturers only produce one type. However, various organizations produce varied sizes based on the needs of their customers. Mice with a tiny, lightweight, and compact design may be readily transported in a bag.
The average length is about 5-7 inches; however, this may vary widely. The length and width of the mouse should be sufficient to allow your hand to rest comfortably on top of it. Some mice are petite and long, while others are large and hefty. As a result, check the product's measurements thoroughly before making a purchase.
EXTENT OF THE HAND
With a tape measure, measure the distance from the tip of your ring finger to where the crease in your wrist meets. At the very least, you can find a mouse that suits your hand to a 75 per cent degree. The market has a standard-size mouse, best suited for those with tiny or medium-sized hands. You should purchase a mouse that covers at least 75% of your hand if it's above 8 inches in length. It will be easier and more pleasant to use such a mouse.
ERGONOMICS
When looking to purchase a mouse for any reason, this factor comes into play. Most firms exclusively produce right-handed mice because of the vast number of right-handed users. On the other hand, some businesses are geared at huge audiences and produce both. Manufacturers often choose an ambidextrous mouse that can be used by both right- and left-handed people.
Extra buttons on the sides and textured thumb rest are included in a gaming mouse. In this case, the features are exclusively for a certain kind of user. As further evidence that the mouse is ambidextrous, both sides will seem the same. If you're a right-handed person, you can use this mouse.
GRIP AND USE.
The right way to utilize it is just as important as its size. Rest your hand on the base of the mouse, not the desktop, while using it. In this manner, you don't strain your wrist and put less pressure on it. In addition, instead of just rotating your wrist, try moving your forearm in the same direction. You're the appropriate size if your fingers extend a bit past the edge of the container.
As you can see, there are many different types of grips to choose from. Before purchasing a mouse, gamers should measure it to ensure comfort. When shopping for a mouse for a big hand, the grip position might alter your decision, so keep this in mind.
DPI
The primary mouse has at least 1600 DPI, ideal for everyday usage. However, while playing a game, its number is essential. The DPI is a measure of the mouse's hardware capabilities. You may have to move quickly or slowly to get the job done in a video game. Most mice come pre-programmed with a specific DPI, which may be changed by pushing a button on the mouse. You'll need to adjust the number to suit our needs in certain circumstances. Gamers should look for a mouse with a range of DPI settings.
BUTTONS
The sort of player you are determines how many buttons you will require. Standard 5-button controllers are adequate for casual players since they include all the essential functionality. On the other hand, MMO players have more buttons and combinations at their disposal. It all depends on what you're looking for and how much money you have to work with.
Having programmable buttons on a mouse would be ideal so that you may customize your mouse to suit your needs rather than having to adhere to predetermined settings. Large hands need more oversized side buttons with sufficient space to avoid accidental presses and boost usefulness.
WIRELESS or WIRED?
Depending on your preference, it's possible to get a wireless or a corded mouse. A wired mouse is the most acceptable option for gamers. If you want to play games at a high rate of speed, you need a wired mouse that responds quickly. On the other hand, a wireless mouse does not need tangled wires, although it may sometimes suffer from sluggishness. Due to the slower reaction time of wireless, it isn't the ideal option overall.
WEIGHT
Some like a light mouse, while others prefer a heavier one depending on personal inclination. The contemporary mouse is small, light, convenient, and effective. For those who like a heavier mouse, several manufacturers provide weights with their products so that you may fine-tune the feel.
Frequently Asked Questions
The best mouse for huge hands?
Large hands will like the Logitech G903 LightSpeed mouse. Thanks to its ambidextrous design, right-handed and left-handed gamers alike may benefit from the mouse's capabilities. It's like having the best of both worlds in one convenient mouse.
Is the G502 a suitable fit for large hands?
If you've got a large hand, the Logitech G502 is the best option. This mouse has everything you could want in a mouse, including a big, comfortable grip, a solid structure, and a plethora of capabilities.
Professional gamers use what kind of mouse?
Every professional gamer utilizes a comfortable mouse in his hands and has the characteristics he values the most in a gaming device. On the other hand, pro gamers like the Logitech G502, SteelSeries Sensei, Razer Deathadder, and Zowie gaming
What is the world's heaviest mouse?
One of the world's most heavy-duty mice is ASUS ROG Spatha. Since it has a magnesium alloy body, the 183g weight is sturdy and weighty.