To help you choose the most acceptable white gaming mouse to complement your gaming setup, we've compiled a list of the top options below. The mice listed here are top-notch performers with all the bells and whistles you'll need to elevate your gaming experience to the next level. Regardless of price, each of these mice brings something unique to the table, or in this instance, the gaming desk. There is a wide range of options available, which are very accurate, ergonomic, and long-lasting.
What are the characteristics of a top-notch gaming mouse?
Accuracy
The sensor of a gaming mouse is optical or laser, which must be precise. A frequent misconception that a greater DPI indicates better performance; however, it's a common misunderstanding. A low DPI mouse may outperform a high DPI mouse if the sensor is accurate. As a result, ensure your gaming device's sensor is of high quality.
Comfort
The form of a gaming mouse must be pleasant to use. What's the point of a gaming mouse if it doesn't feel comfortable in your hands? Additionally, the placement and smoothness of button clicks must be considered.
Reliability
If you're going to utilize a gaming mouse, you need it to be trustworthy and long-lasting. The buttons must be able to withstand heavy use. It must have a sturdy internal and exterior construction to last you for months.
White Gaming Mouse
At a Glance:
The Gaming Mouse of 2022:12 of the Best White Mouse That You Can Buy Today
---
Cooler Master MM711
Best LightSpeed Gaming Mouse
SPECIFICATIONS
Type: Wired | DPI: Up to 16,000 DPI | Tracking Method: Optical | Switches: Omron | Customizable buttons: 6 | RGB Lighting: RGB | Weight: 60g
PROS
✓Ergonomic build
✓Wired/USB connection
✓Lightweight build
✓gaming-grade sensor
CONS
✗Fragile side materials
Features:
· Ergonomic, ambidextrous shape
· PixArt PMW3389 optical sensor
· Weighs only 60 grams
2- year manufacturer's warranty
At 60 grams, the Cooler Master MM711 is one of the lightest gaming mice Cooler Master has ever produced and an update to the previous MM710.
When it comes to gaming mice, the MM711 is an excellent choice. The PixArt PMW3389 has all you could ever want, and it can be fine-tuned to the tiniest of differences. Additionally, the pixel resolution may be adjusted up to 16,000 DPI.
There is limited motion in the Omron switches but a pleasant clack in the side buttons. In addition, the scroll wheel is silent and reliable, which sets it apart from another gaming mouse in this price range.
The MM711's software has both common and uncommon features. For example, the MM711 has a wide selection of RGB lighting choices, with unique features like angle adjusting.
The MM711's worst flaw is that it feels every penny of its asking price. This isn't to mean that it's a low-quality item. However, the price does not seem to be prohibitive. It's sturdy, but it doesn't seem like it can take more than a few slams. The downside is that the bottom has been known to scratch mouse pads. However, when it comes to actual performance, the M711 is a no-brainer.
Cooler Master MM711
Best Ultra Premium Gaming Mouse
SPECIFICATIONS
Type: Wired | DPI: 400 to 12000 | Tracking Method: Omron, mechanical, rated for 20 million clicks | Switches: Omron | Customizable buttons: 6 | RGB Lighting: Yes
PROS
✓Eye-catching perforated honeycomb design with RGB lighting.
✓It uses Pixart 3360 optical sensor, which maximizes 12,000 DPI for tracking accuracy.
✓It uses an Omron-branded switch rated to withstand up to 20 million clicks.
✓Uses a 100% pure virgin PTFE material for the feet for frictionless navigation.
✓Reasonably lightweight at 2.4 ounces or 68 grams.
Cons
✗A little more on the expensive side.
✗Less color selection.
Features:
. Very lightweight at 68 grams
· Pixart PMW-3360 sensor, which performs admirably
· Ascended Cord is as lightweight as they come
· Omron mechanical switches
· On-the-fly DPI switching, with a DPI indicator at the bottom
Glorious clearly understands that not everyone is a lover of spending much money on a high-quality gaming mouse. Glorious Model O's glossy or matte white gaming mouse is one of the nicest on the market, and it's inexpensive.
In addition, Glorious has just developed the Model O Minus, a 58-gram version of the original's 67-gram weight. In terms of performance, it boasts a fantastic Pixart PMW-3360 sensor and Omron mechanical switches. The scroll wheel and side LEDs are hidden within the honeycomb shell, light and thin. A glossy white finish completes the picture.
A very lightweight Ascended Cord links this mouse to your PC, allowing you a wide range of customization options, from the six customizable buttons to RGB lighting and DPI adjustments.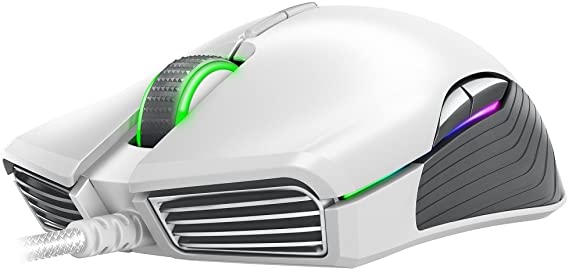 Razer Lancehead Tournament Mercury Mouse
Best RGB Ultra Lightweight Gaming Mouse
SPECIFICATIONS
Type: Wired | DPI: Up to 16000 | Tracking Method: Optical | Switches: Omron | Customizable buttons: 9 | RGB Lighting: Yes
Pros
✓Esports-grade optical sensor with true 16,000 DPI.
✓Exact 450 inches per second tracking with 99.4% resolution accuracy.
✓Ambidextrous design means it fits perfectly whatever hand you use.
✓Customizable buttons and Chroma RGB via Razer Synapse.
✓Ridged and rubberized scroll for a more controlled scrolling.
Cons
✗It might be a little expensive for many at a regular price of $79.99.
✗A limited selection of colors.
Features:
. 450 inches per second tracking
· Cloud memory
· On-the-fly DPI switching
· One of the fastest sensors in the world
· Durability for up to 50 million clicks
· Ambidextrous mouse
There isn't any mouse with a higher dpi sensor on this list than the Razer mouse, which has an accurate tracking of 16,000 DPI. The 450-inch-per-second sensor on this mouse makes it the quickest for professional gaming.
Omron switches are also included in the Razer Lancehead, ensuring lightning-fast reaction times and 50 million clicks. The settings for this mouse may be stored both locally and in the cloud. As an ambidextrous mouse, it may be used by both left- and right-handed players. Of course, this mouse comes in various colors, but this one is geared at delivering the best possible performance.
XTRFY M4
Best Fastest Lightweight Gaming Mouse
SPECIFICATIONS
Type: Wired | DPI: Up to 16,000 DPI | Tracking Method: Optical | Switches: Omron | Customizable buttons: 6 | RGB Lighting: N/A | Weight: 69g
Pros
✓Agile, lightweight
✓High DPI (16k)
✓Honeycomb shell w/ RGB
✓Much better than MM710
Cons
✗Build-quality concerns (sidewall press)
✗Slight, uneven glide
Features:
· Unique, right-handed design
· PixArt PMW3389 optical sensor
· Weighs only 69 grams
· XTRFY EZcord
With a weight of 69 grams and a price tag of $60, the M4 is one of the most affordable and well-built gaming mice on the market today.
Pixart's PMW3389 sensor has 400 IPS and on-the-fly settings that you may vary from 400 to 16,000 CPI and polling rates ranging from 125 to 1,000 times per second.
XTRFY's "EZcord" is used in conjunction with the ultra-lightweight and ambidextrous design. Consequently, the cable is softer, lighter and more flexible, resulting in a more fluid experience. In addition, you may choose a colour for the cord that matches your mouse as an additional benefit.
Every one of these components is included in an ultra-durable and featherweight mouse. For example, the shell is anything but light. It's also worth noting that you'll quickly realise that it's created for quality rather than quantity despite the mouse's appearance. Omron switches can and should last for 20 million pro-played clicks in the M4.
Razer Basilisk
Best Ultra Lightweight Gaming Mouse
SPECIFICATIONS
Type: Wired | DPI: Up to 16,000 DPI | Tracking Method: Optical | Switches: Razer | Customizable buttons: 8 | RGB Lighting: Yes
Pros
✓Wireless
✓Very small
✓Ambidextrous
✓Suitable for kids or travel
✓Affordable
Cons
✗No RGB
✗Entry-level mouse
✗High-tension wheel
✗No option for wired connection
✗Not truly ambidextrous
Features:
· Excellent optical sensor that goes up to 16,000 DPI
· Razer's in-house switches with excellent Durability
· On-the-fly DPI change buttons
· Scroll wheel resistance adjustment
· Razer Chroma RGB lights
Razer has been around for a long time, and its peripherals tend to get much attention. The white version of the famous Basilisk gaming mouse is a gorgeous addition. It's designed for right-handed users and has mechanical switches, adjustable scroll resistance, and eight buttons that you may configure to your liking.
Razer's high-precision optical sensor is housed with a DPI of up to 16,000. Dedicated buttons let you quickly adjust the display's DPI. The controls may be reprogrammed if you choose. You may customise each button, and the fast DPI toggle is available in two different lengths to find the best fit for your hand. In addition, the resistance of the scroll wheel may be as clicky or as smooth as desired.
With Chroma RGB lighting that you can customise, you've got one of the best gaming mice.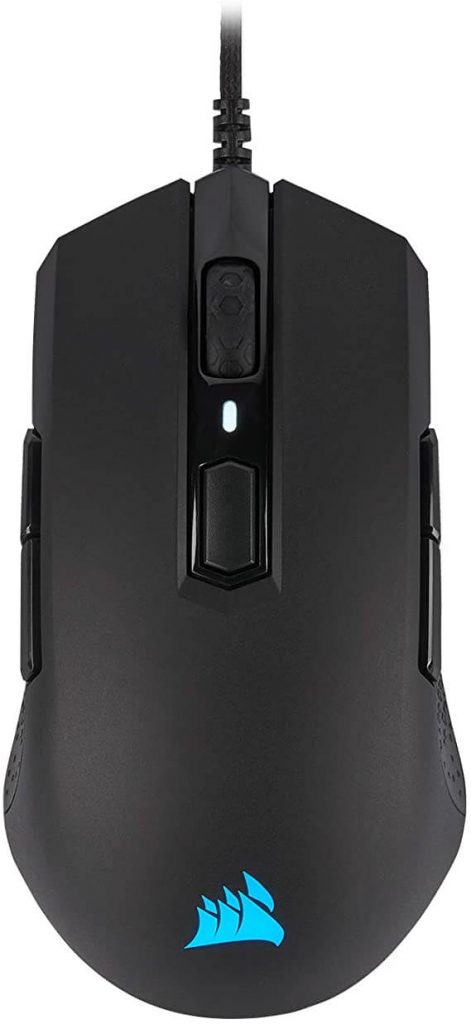 Corsair M55 RGB Pro
Best Super Ultra Lightweight Gaming Mouse
SPECIFICATIONS
Type: Wired | DPI: Up to 12,400 | Tracking Method: Optical | Switches: Omron | Customizable buttons: 8 | RGB Lighting: Yes
Pros
✓One of the cheapest white gaming mice on this list at only $39.99.
✓Ambidextrous design allows use for both left and right-handed gamers.
✓Gaming-grade high-precision optical sensor rated up to 12,400 DPI, with a dedicated DPI switcher button.
✓It was made with Omron-branded switches, rated up to 50 million clicks.
✓Braided cables for added protection and less cable pull.
✓Dynamic, vivid RGB lighting synchronization with compatible Corsair peripherals via Corsair iCue Software.
✓Lightweight at only 86 grams.
Cons
✗Plain design, with fewer color choices.
✗The dynamic RGB lighting only bleeds through a single whole.
Features:
· High accuracy sensor that goes up to 12,400 DPI
· Omron switches rated at 50 million clicks
· Lightweight at 86 grams
· Ambidextrous design
· Braided cable adds a quality touch
Since they recently joined the market, many of Corsair's peripherals have been highly praised, particularly its mouse. This is one of them and comes in a dazzling white hue and an ambidextrous form that will suit everyone.
Inside, you'll find an optical sensor with a maximum pixel resolution of 12,400 DPI. A switch certified for 50 million clicks is positioned underneath the left and right buttons. You can be sure it will endure a long time.
The mouse weighs only 86 grams, making it very portable. It's ambidextrous to be used by anybody, regardless of their preferred grip method. Additionally, you have eight programmable buttons that may be used as conventional buttons or even macros that can be run by pressing a button.
If you're looking for a high-quality, long-lasting mouse, then the M55 is for you. Perfect for anyone's taste.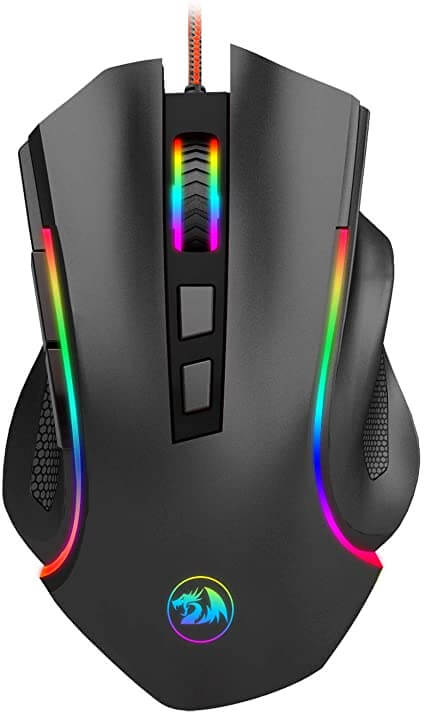 Redragon M602 RGB
Best Ultra Laser Lightweight Gaming Mouse
SPECIFICATIONS
Type: Wired | DPI: Up to 7,200 | Tracking Method: Optical | Switches: Redragon | Customizable buttons: 7 | RGB Lighting: Yes (7 backlight modes)
Pros
✓Ambidextrous
✓Middleweight, durable
✓Great value
Cons
✗Bland design
✗Noisy wheel
✗Stiff, thick cable
Features:
· Very budget-friendly price
· seven user-programmable buttons
· five profiles with a different LED color
There's no disputing that Redragon's goods are aimed at the budget-conscious consumer, but they're very decent and give great value for money. One of them is the M602 mouse, with a low price tag but an impressive feature set.
With a 7200 DPI sensor, the mouse is very accurate. To make matters worse, the DPI settings are pre-programmed and cannot be changed (800, 1200, 1600, 2400, 7200). Gaming-grade switches are also included, which should last you a long time.
There are seven distinct illumination options to choose from using the RGB backlight, and each one looks fantastic on the white mouse. Seven user-programmable buttons and the option to store five distinct profiles (each with a unique LED colour) are included on the mouse.
Several high-end mice are just as good, but the M602 is a cheap version. It does a fantastic job and provides excellent value for the money.
Ajazz Watcher RGB Backlit Gaming Mouse
Best Optical Lightweight Gaming Mouse
SPECIFICATIONS
Type: Wired | DPI: Up to 7,200 | Tracking Method: Optical | Customizable buttons: 7 | RGB Lighting: Yes | Switches: N/A
Pros
✓Agile, lightweight
✓High DPI (16k)
✓Honeycomb shell w/ RGB
✓Much better than MM710
Cons
✗Build-quality concerns (sidewall press)
✗Slight, uneven glide
Features:
· On-the-fly DPI switching
· Colors change with DPI presets
· 2-Years Manufacturer's Warranty
If you're a budget-conscious gamer who still wants a high-quality gaming mouse, this is your mouse. The Ajazz Watcher has both the aesthetics and the technical components to provide an enjoyable gaming experience.
It has a high-precision optical sensor with a default DPI of 7 and a polling rate that four levels can adjust. Multiple game setups are possible with the seven customizable buttons. The anti-interference cable of the Ajazz Watcher gaming mouse ensures reliable data transfer and long-term usage.
An ergonomic shape and a medium-sized weight make the mouse suitable for most hands. Its RGB breathing LED backlight, on the other hand, offers a 16.8 million-color gamut with numerous light settings.
A Buyer's Guide to the Best White Gaming Mouse
What are your options for the best gaming white mouse?
Many people will turn to search engines to get the answer to that query. Inquiring minds want to discover if a mouse like this is distinct from the norm or if there's more to it.
Compared to a standard mouse, a gaming mouse is far more sensitive and responsive.
On the other hand, gaming mice often feature a more significant number of buttons. On the other hand, a gaming mouse is more comfortable to operate. Because of this, you may play for lengthy periods without damaging your wrist.
A gaming mouse differs significantly from a standard one in several respects. As a result, we're here to assist you in your quest for a white gaming mouse that stands out. As is customary, consumers have a plethora of excellent choices. As a result, making a decision is a challenge. Because of this, you'll be able to choose from a wide range of alternatives, including Razer, Redragon, and Logitech.
Consider the following criteria before making a final choice.
The first question is: "What grip are you using?"
To be aware of your grip is to be mindful of how your hand feels at ease while operating a mouse. Consider these grips if you're going to buy a gaming mouse:
• Handle with the palm.
The palm grip is a familiar mouse grip for both gamers and non-gamers. While your palm rests on the mouse, your fingers lie flat on the buttons.
• Grip using the tips of the fingers.
Your index, middle, and ring fingers only touch the left, center, and mouse buttons in this manner.
You won't touch the mouse Customisablewith your palm—a claw-like grasp. Palm and tip grips are combined in this grip. Your hand is solely resting on the mouse's rear edge in this position. Finger and thumb tips are angled toward the buttons.
2. Cable vs wireless
It's up to you if you want a white MMO mouse or anything else. It's impossible to say whether one is better or worse. A wireless mouse, for example, implies that you won't have to deal with tangled cords. As a result, the cursor will lag due to radio waves being used to communicate with the receiver.
You can get lag-free performance with several adjustments, however.
On the other hand, Wired mice are frequently the quickest to respond.
Lag is almost non-existent, and charging them isn't a big deal either.
The Integration of Customizable Software
Many PC gaming mice are included with their respective programs.
Some gaming peripherals, such as keyboards and headsets, are available as part of a "suite" rather than a standalone product.
Gaming software like Hero allows you to modify your lighting profile, assign buttons, and configure DPI parameters, among other things. Using this method, you'll have better tracking and quicker movement. On-the-fly modifications may be made with an advanced white mouse.
Changing the mouse's sensitivity provides for quicker or more accurate tracking, and some more modern mice enable you to alter this on the fly using the mouse buttons.
4. Comfort and Ergonomics
Peripheral devices, such as mice, are very individualistic.
Some people, for example, like a convenient mouse that may be customized in appearance. As far as others are concerned, they want something light and fast on any surface. Use a mouse that makes you feel at ease regardless of the situation. The mouse is yours to use while playing games. Don't be satisfied with what other people like and what makes them uncomfortable.
Conclusion
Some gamers choose to use the standard mouse instead of the gaming mouse since they are affordable. There are numerous budget gaming mice on the market with stunning design, ergonomics, and competitive specs if you know where to seek and what to look for. I recommend that you constantly seek gaming mice from the manufacturers above. Additionally, as they become older on the market, they get less expensive.
This is why you should seek older models from these companies. The switches and DPI aren't the only things to take into account. Only then can we go on to the design and RGB lighting.
Overall, both mice are fantastic choices if you're looking for a white gaming mouse. Many useful functions are included in each one. High-quality sensors and accessible DPIs are essential for keeping your mouse quick and accurate. You'll always be one step ahead of the pack this way.
Frequently Asked Questions
Why my white gaming mouse is becoming a little dirty?
White mice have a hue that is more susceptible to stains. They may still be made cleaner, however. Make sure your mouse is plugged out of the computer, and remove any batteries it may have. You'll also need a moistened microfiber cloth for this step. Use it to remove any dirt or grime gently.
Using a dry microfiber towel, wipe away any remaining moisture from the previous stages.
On a white gaming mouse, how can I alter the DPI setting?
The DPI buttons on a gaming mouse may not always be easily accessible. Simply open the mouse and keyboard control centre and pick the mouse you want to use. To find your mouse's sensitivity level, select the basic settings and make the necessary modifications.
The Logitech G305 Lightspeed mouse receives the highest scores from our reviewers. Fast, light and adjustable features make it an excellent choice for gamers who want to get the most out of their gaming time.
Will I get better at games if I purchase a gaming mouse?
A gaming mouse boasts higher sensitivity compared to a standard model. It might give you a competitive edge, but you need to practice to take your gaming skills to the next level.
Is the weight of a mouse important for gaming?
If your white PC mouse weighs a lot, you won't be able to move it across the gaming mat too quickly. However, it might provide better accuracy with higher sensitivities. Lighter mice can be moved with a faster speed which is extremely helpful in shooters.