Suppose you're looking for the most excellent palm grip gaming mouse for your needs. In today's technologically advanced world, when there are many options to choose from, it's essential to consider your purchase. The same is true for finding the ideal mouse in terms of functionality and ease of use. A gaming mouse vs. a regular mouse may be a topic of discussion for you. The first step is to choose between a claw grip and a palm grip while using a mouse. For example, specific mice are better suited to palm grip users, while others are more suited to claw grip users.
To choose the ideal mouse for you, you must first determine your preferred method of holding the mouse. Choosing the best palm grip mouse for your needs might be a tedious procedure. A suitable sensor is needed to ensure that you don't see any lag or delay in your mouse movements on the screen. Several additional variables may or may not influence your gaming ability. Some of these elements are merely gimmicks, while others are important for a better overall game experience or if you're a competent FPS player.
When shopping for a palm grip gaming mouse, remember that not all mice are designed to fit all hand sizes. While some are better suited for larger hands, other options are better suited for tiny hands. Weight and connection type are other essential factors to consider when selecting a mouse to choose the one that works best for your needs. Of course, you can't forget about the aesthetics and pair your new RGB mouse pad with your existing decor. We've done all the legwork for you, so you don't have to by providing a comprehensive palm grip mouse tutorial.
At a Glance:
The Best Gaming Mouse For Palm Grips That You Can Buy Today
---
Logitech G Pro WirelessPros
Best Budget Wireless Mouse
SPECIFICATIONS
Sensor: HERO 25K | DPI: Up to 25,600 | IPS: Up to 400 | Dimensions: 12.5 cm x 6.3 cm x 4 cm | Weight: 80 g | Connectivity: Wireless | Number of Buttons: 6 | Form Factor: Ambidextrous | RGB: Yes | Software: Logitech G-HUB |
Pors
✓Wireless Connectivity
✓Powerplay Compatible
✓Option To Add Side Buttons
✓Light Weight
✓Comfortable Shape
Cons
✗Expensive
✗Unremarkable Aesthetics
In the realm of computer hardware, Logitech is a significant player. The mouse is Logitech's most popular product. Logitech has produced some of the most excellent mice ever created, including the G502 Proteus Spectrum, praised as one of the best built. Designed for comfort and convenience, the Logitech G Pro Wireless mouse is a must-have. This is a wireless mouse with an ergonomic design that can be used by either hand, making it simple to see. Increasing numbers of people are turning to this product as their go-to option.
The new HERO 25K sensor on the Logitech G Pro Wireless mouse has a maximum DPI of 25,600. This mouse weighs about 80 g, making it one of the lightest that we've encountered. There is a 48-hour battery life with RGB enabled on the G Pro, a wireless mouse. Once RGB is off, you can get up to 60 hours of battery life. The Logitech logo on the mouse's palm rest has just one RGB light zone. Because of the G Pro's ergonomic design, it is a charming mouse to operate. You don't have to exert any effort at all to move the mouse since the mouse is so light.
wireless keyboard and mouse from Logitech
There are many PTFE foot regions on the bottom of the mouse for smooth travel on any surface. Because this mouse has side buttons on both sides, it is ambidextrous. The design of the mouse also makes it possible for both right- and left-handed persons to operate it. The Logitech G-HUB software may be used to configure all six of the mouse's buttons. This wireless G mouse is compatible with Powerplay. Logitech's Powerplay technology enables you to use and charge your device simultaneously. You must have a Powerplay pad and a Powerplay-compatible device to do this.
An additional accessory, the Powerplay pad, is required. It's not included in the package. The mouse isn't cheap, and when you include the additional cost of the Powerplay function, you end up with a rather pricey item. Even if you don't need the Powerplay function, the G Pro is more costly than many other high-level palm grip mice. However, the high price may be attributed to this mouse being the most excellent palm grip gaming mouse for those who like comfort and convenience.
Razer DeathAdder Elite
Best Premium Budget Mouse
SPECIFICATIONS
Sensor: Razer Optical Sensor | DPI: Up to 16,000 | IPS: Up to 450 | Dimensions: 12.7 cm x 7 cm x 4.4 cm | Weight: 105 g | Connectivity: Wired | Number of Buttons: 7 | Form Factor: Right-handed | RGB: Yes | Software: Yes |
Pros
✓Excellent Razer Optical Sensor
✓Great Aesthetics
✓Comfortable To Use
✓Very Fast Response Time
✓Tasteful RGBExcellent Razer Optical Sensor
✓Great Aesthetics
✓Comfortable To Use
✓Very Fast Response Time
✓Tasteful RGB
Cons
✗Software Support Could Be Better
✗Relatively Expensive
Razer is a well-known brand in the computer hardware industry. An early mouse for gaming, Razer was made by one of the first firms to do so. Razer has only become better at producing the kinds of mice consumers need over time. Like the Logitech G502 Proteus Spectrum, the Razer DeathAdder is a beloved gaming mouse. The DeathAdder's popularity waned over time as rivals released mice with capabilities that surpassed the DeathAdder's. As a result, Razer felt the need to create new and enhanced versions of its most popular product, the DeathAdder. Razer DeathAdder Elite is one of them.
In every mouse, the sensor is critical. For a superior mouse, you'll want an accurate and quick sensor. Such a sensor as the Razer Optical Sensor gives you a distinct advantage in terms of performance. According to Razer, this sensor is 99.4% accurate and responds very quickly to mouse movements over the surface. This mouse has a maximum DPI of 16,000 and a maximum tracking speed of 450 IPS. A high-speed mouse requires a high-quality sensor, and Razer's Optical sensor delivers.
Xtreme Edition of the DeathAdder Elite from Razer
This mouse is heavier than the others on this list, weighing around 105 g. The Razer DeathAdder Elite is likewise devoid of wireless connection. However, the Elite's added bulk affects how easily it can be moved about the desk because of its lightweight design. The Razer logo and the scroll wheel each include a few areas of color that may be lit up. There are seven programmable buttons in total. Razer Synapse 3 software allows you to configure the RGB and buttons to your taste. Despite its ease of use once installed, the software's installation procedure may be unpleasant and difficult.
Right-handed users will find the DeathAdder Elite one of the most comfortable mice ever created. In a palm grip type of usage, the mouse maintains the hand's natural resting posture—one of the most eye-catching mice on the market today. The design and the RGB make it more appealing to computer enthusiasts. In terms of cost, this is likewise a reasonably priced device. DeathAdder Elite is lighter than Logitech's G Pro mouse in weight.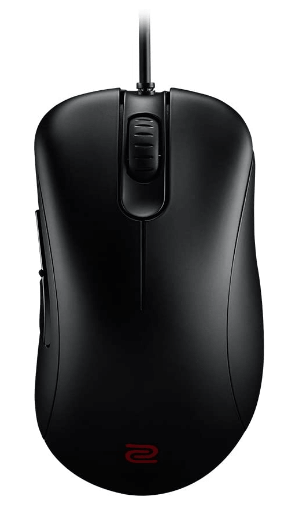 BenQ Zowie EC2-B
Best Mid-Range Budget Mouse
SPECIFICATIONS
Sensor: 3360 Optical sensor | DPI: Up to 3200 | IPS: Up to 250 | Dimensions: 12 cm x 6.4 cm x 4 cm | Weight: 90 g without cable | Connectivity: Wired | Number of Buttons: 5 | Form Factor: Right-handed | RGB: no | Software: no |
Pros
✓Ergonomic Design
✓No Software Required
✓Lightweight
✓Inexpensive
Cons
✗No Customizability
✗Not Ambidextrous
✗Unremarkable Aesthetics
BenQ is a well-known manufacturer of high-quality LCDs and monitors. They are well-known for their digital-related electrical and technological equipment, such as monitors, LCDs, projectors, and cameras. BenQ is also a manufacturer of computer peripherals like a mouse. BenQ Zowie mice's EC1 and EC2 series are both incredibly comfortable and compliant. Such a mouse is the BenQ Zowie EC2-B, which is very comfortable and straightforward to operate.
The Zowie EC2-B's primary selling feature is how cozy it is. All BenQ Zowie mice have had this functionality from the beginning. Right-handed users will like the EC2-B mouse. Because of the location of the mouse's side buttons, this is immediately apparent to the user. These buttons are located just behind the thumb of a right-handed individual.
Moreover, the mouse's left side has an inward curvature, while the right side has an outward curve. Right-handed users will benefit the most from this mouse because of combining all of these variables. Although this mouse cannot be used by those who are left-handed and may seem to be a drawback, it is prevalent.
ZOWIE EC2-B by BenQ
An optical sensor with a maximum resolution of 3200 DPI may be found in the EC2-B. Only 90 g makes this mouse a light one. This is not a wireless mouse, so you don't have the same level of mobility as the Logitech G Pro. This mouse has five buttons for your convenience. There is no RGB color. This mouse may be controlled without the need for any software. As a result, there is no way to customize this mouse. An easy-to-use device, it doesn't require you to install any software or drivers.
In addition to its affordability, this mouse has a lot going for it. The design and features of the EC2-B are understated. This is because this mouse is primarily aimed at people who value comfort and convenience over the benefits of a feature-rich mouse. If you're looking for an excellent entry-level mouse, this is one of the best options on the market. With this mouse's rounded design, claw grip users may also feel right at home. Even so, it's a strong contender in our comparison of the best palm mice.
SteelSeries Rival 310
Best Budget Gaming Mouse
SPECIFICATIONS
Sensor: SteelSeries TrueMove3 Optical sensor | CPI: Up to 12,000 | IPS: More than 350 | Dimensions: 12.8 cm x 6 cm x 4.2 cm | Weight: 88 g | Connectivity: Wired | Number of Buttons: 6 | Form Factor: Right-handed | RGB: Yes | Software: Yes |
Pros
✓Quick And Accurate Tracking
✓Reasonably Priced
✓Convenient SteelSeries Software
✓Decent Design
Cons
✗Unremarkable Cable
✗Only 2 CPI Settings
✗No Light Indicator
Logitech and SteelSeries are among the most popular brands when it comes to mice. A SteelSeries mouse would be a glaring omission from any list of the top gaming mice. SteelSeries Rival is a world-renowned and well-loved mouse line. SteelSeries' Rival product range includes several various mice. In our list of the best palm grip mice, we'll be looking at the SteelSeries Rival 310. This is another well-known and well-liked product by customers all around the globe.
For starters, let's take a look at the sensor on the Rival 310. The SteelSeries TrueMove3 Optical sensor was developed with the help of Pixart. According to SteelSeries claims, this sensor is the world's first accurate 1-to-1 tracker. With the TrueMove3 sensor, you can get genuine one-to-one tracking up to 3,500 CPI. However, if the CPI is more significant than that, it loses the precision that the 1-1 monitoring provides. Even at higher CPI levels, the Rival 310 still performs well in tracking mouse movements across the screen, even without the 1-to-1 tracking feature.
Rival 310 from SteelSeries
This mouse has a few flaws that are immediately apparent. The rubber-coated cable is the first of the two components. Rubber-coated cables are less durable than braided ones. Because of this, braided cables are increasingly being used in a wide range of devices. Also, the CPI setting is a problem. Only two CPI settings are available for a mouse. Even using the app, you can only change the CPI to two different levels: the two that are pre-installed. The CPI may be changed by pressing the button beneath the mouse's scroll wheel. There is also no noticeable difference in the lights when you adjust the CPI level, making it difficult to see whether your setups work.
The SteelSeries Rival 310 is capable of over 350 IPS and up to 12,000 CPI. Weighing in at less than 90 g, this mouse is light and straightforward to operate. It would be best to connect it to your computer through USB to use this mouse. Because of the modular design, an ambidextrous mouse doesn't have a right-handed form; it's designed for right-handed users.
The scroll wheel and the SteelSeries logo on the palm rest are both RGB zones on the Rival 310. The SteelSeries Engine 3 software allows you to alter the RGB's color and mode. The SteelSeries software may also configure the buttons to perform other macro operations. Overall, the program is highly user-friendly. The SteelSeries Rival 310 is reasonably priced. Given the price, this is a high-quality mouse with many valuable features.
Corsair Iron Claw
Best Flagship Budget Mouse
SPECIFICATIONS
Sensor: Pixart PMW3391 Native Optical sensor | DPI: Up to 18.000 | IPS: Up to 400 | Dimensions: 13 cm x 8 cm x 4.3 cm | Weight: 105 g | Connectivity: Wired | Number of Buttons: 7 | Form Factor: Right-handed | RGB: Yes | Software: Yes |
Pros
✓Best For Big Hands
✓Precise Tracking
✓Good Grip
cons
✗Not Ideal For Small Hands
✗Underwhelming Lighting
✗Heavy Mouse
✗Unremarkable FPS Gaming Performance
Corsair is known for its high-quality, top-of-the-line gear in the world of computer aficionados. As a computer hardware manufacturer, Corsair has a vast range of goods to choose from. There is a lot of surface area on the Corsair Iron Claw mouse. The design of this mouse makes it evident that it will be perfect for persons with big hands. If you have tiny hands, you'll be able to use it quite well, although its overall design may be complicated for you to utilize. Additionally, it's a strong candidate for the most excellent palm grip mouse globally. This mouse's wireless counterpart is just as good.
Pixart worked with Corsair to develop the PMW3391 Native Optical sensor included in the Iron Claw. Using this sensor, the Iron Claw may be tracked up to 18,000 DPI and 400 IPS. Weighing in at 105 grams, this is a wired version of the standard optical mouse. You could imagine that the mouse is heavier than it is based on its size. This mouse has seven buttons in total. Only gamers that like to use their right hand for gaming will benefit from this mouse since it is not ambidextrous. The scroll wheel, the Corsair logo on the palm rest, and an RGB zone on the mouse's left side, in front of the side buttons, are all visible components of the mouse. It's a superb mouse with all the necessary functions.
Iron Claw of the Corsairs.
If desired, excruciatingly fine-tuned DPI modifications may be made to the Iron Claw's 1 DPI step. You'll get the same precision no matter which DPI setting you to choose. There are three bars of light on the mouse's side. The DPI change level is reflected in the color of these bars. DPI changes may be tracked using this handy tool. Aside from that, the measurements should have made it clear that this is a giant mouse. People with big hands benefit the most from this. Those with average or small hands will find it difficult to use. The Iron Claw is simple to hold and secure in your hand. This mouse is tough to get out of your hands.
As a Corsair enthusiast, you want their goods to be eye-catching and eye-catching bold in appearance. Most Corsair products are also packed with RGB. When it comes to RGB, the Iron Claw mouse deviates from the Corsair mold. This mouse's lighting is lower than for an RGB product; it's neither brilliant nor bold. While Corsair's legendary RGB lacks, the Iron Claw looks excellent and feels cutting-edge. The fact that this mouse is reasonably priced further to its worth.
Considerations When Buying A Home
The most critical piece of gear for gamers is a gaming mouse. It's never been simpler to buy a gaming mouse. There is no such thing as a flawless mouse. The mouse provided in your wireless keyboard and mouse combination could tempt you to utilize it. However, if you're looking for a gaming mouse, keep a few things in mind. A wide variety of gaming mice are available to cater to gamers of all skill levels and FPS enthusiasts. Every peripheral maker's goal is to provide a gaming mouse that incorporates the most cutting-edge technology and components. The most incredible gaming mouse may be the difference between a triumphant win and a humiliating loss, so it's essential to get it right. Also, you may be shocked to find that mid-range gaming mice are just as good as their high-end counterparts in terms of performance. Ergonomics, sensors, switches, macros, and RGB lighting are just a few of the features to keep an eye out for a while shopping for the most OK palm grip gaming mouse. Sensors and weight will be the focus of this section. We can help you avoid mice that overpromise and underdeliver. Let's take a step back and look at some of the most important considerations.
Optic Sensors
As a result, many gamers have made the switch to gaming mice. Standard gaming mice were inadequate even for simple things like surfing the web or using Microsoft paint. Using a regular mouse to play video games is perfectly legal, but you're losing out on many fun features. A suitable sensor is a godsend for competitive games like Dota, Counter-Strike, and Valiant. It's essential to watch out for characteristics like polling rates, DPI, acceleration, and angle snapping when picking a sensor for a gaming mouse. DPI and polling rates should be high, and there should be no acceleration or angle snapping in a high-quality mouse. Although not up to today's standards, some of the cheapest gaming mice will also have an acceptable performance. When inexpensive and expensive mice are side by side compared, there is a noticeable difference in input latency and acceleration. Since Logitech and Razer manufacture their sensors, there's no need to second-guess your purchase. But the rest of the peripheral producers are still employing sensors from third parties. As far as Logitech and Razer go, there are a few you should avoid. Pixart's 3000 series family of sensors, which can be found in many gaming mice, is our recommendation for the time being.
Weight
Many players don't regard their body weight while they play. Lightweight braided wires and lighting effects are just a few of the tricks they use instead. Gaming mouse weight may have a significant impact on how you play. It's possible to perform better with the lighter mouse since they have less resistance and momentum, making you the king of flick shots. Weight is a subjective as well as an objective measurement. The cheapest gaming mouse weighs as little as 60 grams for gamers who want the most negligible weight. Some individuals prefer heavier mice because they are more expensive, long-lasting, and precise. Also, think about whether or not you're willing to give up WiFi capabilities to save 20 grams. A good mouse weighs less than 95 grams and has an excellent weight distribution. Extra weights and grips enable gamers to fine-tune their palm-grip gaming mouse settings to the greatest extent possible.
Conclusion
If you're a gamer, finding the right mouse might be difficult. There are some factors to consider while looking for a gaming chair. The options are almost unlimited, from wireless to cable, palm grip to claw grip, and low DPI to high DPI–the options are almost unlimited! Let us know in the comments if this list helped narrow down your selections or gave you an idea of what characteristics could be more suited to your particular playing style! Wins are more enjoyable than losses; therefore, constantly put money into improving your skills as a player.
Frequently Asked Questions
Which gaming mouse do the pros prefer?
The Death Adder and Zowie EC2-B are two of the greatest palm grip gaming mice that we often see in the hands of professional gamers. Despite the absence of RGB illumination and additional macro buttons, it is evident that this mouse was designed primarily for the most dedicated gamers. These mice are perfect for competitive games because of their superb tracking sensors, click mechanics, and lightweight grips.
Is Logitech superior to Razer in terms of gaming peripherals?
This is a matter of personal preference. Both firms produce great computer accessories, including gaming seats, keyboards, and mice. The two firms are tough competitors in terms of goods and sales, yet each has its unique characteristics. What's the best choice? It all depends on what you're looking for in a mouse for gaming.
Why do gaming mice cost so much money?
Gaming mice are pricey, but they're not excessively so. They are built with high-quality components and materials. Sensor speed, weight, ergonomics, and switch design are all considerations in creating this mouse. The more costly mouse have more precise sensors, and as a result, the cost of producing an accurate sensor rises. On the other hand, some gaming mice have terrible notoriety for being pricey and too gimmicky. There is no such thing as a free lunch.
Which mouse is the most affordable?
The Steelseries Rival 310 is our pick for the most incredible value in a gaming mouse. TrueMove3 optical sensor and Omron switches that can survive up to 50 million clicks are included in this palm grip gaming mouse. This is an excellent option for individuals on a budget or just starting with PC gaming.